Purpose: For individuals to identify the importance of social relationships and discuss "key ingredients" in being a good friend to others.
Materials needed:
Cut up fruit for fruit salad (apples, blueberries, strawberries, etc)
Separate bowls for each fruit
"Yucky" ingredients such as condiments that you would not want in a fruit salad (ketchup mustard, pickles, etc)
Two large bowls to place fruit and non-fruit ingredients in
Individual plates
Utensils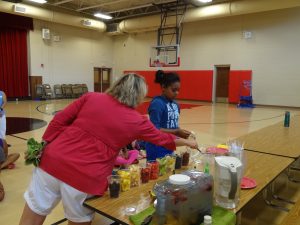 Instructions:
Ask participants to think of a friend that they have, and why they make a good friend.
Each good quality they say is represented by a type of fruit. As they name qualities, put the cut fruit into the larger bowl.
Ask the group to identify qualities that they would not like a friend to have.
Each negative quality is represented by your other "yucky" food items not intended for fruit salad. As these are named, mix items into the other large bowl.
When finished, show both bowls to the group and ask which type of friend they would like to have and which type of friend they would like to be to others.
Dish out the fruit salad to participants and give them the opportunity to discuss situations where someone was a great friend to them and how they can be a  good friend to others.